There are a lot of ways to make money online, but one of the best is to start an online store. But if you don't have a lot of experience creating websites or selling products and services, where do you even start?
Fear not. Fortunately, a few simple tools make it surprisingly easy to get your feet wet in the world of e-commerce. By using WordPress as your website's platform and leveraging the WooCommerce plugin to actually build your store, you can be up and running in an hour — or about the amount of time it takes to watch an episode of your favorite Netflix show. The process will still require some upfront work, but it is totally manageable (even if you're a newbie!).
In this comprehensive guide, we'll provide you with everything you need to get your online shop off the ground. We'll discuss the advantages of using both WordPress and WooCommerce and walk you through setting up your store and creating products. Finally, we'll offer some tips for designing and promoting your site effectively.
An Introduction to E-Commerce

If you've never heard of e-commerce before, it's a blanket term that refers to buying and selling goods or services online. So if you've ever purchased something on the internet, you've engaged in e-commerce.
We probably don't have to tell you how vast and complex the world of e-commerce has become. You can buy nearly anything online, from toothbrushes to houses, and most items are offered by multiple sellers. What's more, you can purchase digital products, services, and all sorts of other non-physical products as well.
This means that if you're interested in becoming a seller yourself, you're going to have a lot of competition. Don't be intimidated — it is possible to start your own online store and do quite well. However, you'll have to put some work in first. The first step is choosing the best tools to build your store.
Why You Should Consider WordPress for Your E-Commerce Store

While there are other options, such as selling your products through an existing marketplace like Amazon, most people get their e-commerce start by creating their own store. Of course, an online store is just another kind of website. So your first decision will be picking a platform to build your website.
If you aren't sold on a particular platform already, we highly recommend WordPress. This free, open-source Content Management System (CMS) is a standout choice for websites of all types. It's beginner-friendly but so flexible and customizable that you can build almost any site with it.
WordPress got its start as a blogging platform, but it's now used for business websites, portfolios, news sites, and much more. It's also an incredibly popular choice with business owners for e-commerce sites for a number of reasons:
The WordPress community has developed thousands of themes and plugins you can use to customize your site, including many tools for e-commerce. This means you can tweak the appearance of your store until it's just right and add nearly any feature to it, whether you're running a massive enterprise or a small business.

As a platform, WordPress is very secure. New updates and patches are regularly released to combat the latest threats. Plus, there are a lot of ways you can boost site security. This is a big deal for e-commerce sites since they typically deal with sensitive financial data.

There's a vast community out there to support you. Getting involved in e-commerce can be tricky. No matter what question or problem you have, however, there will be plenty of people who can help you out.
You really can't go wrong with WordPress for building your online store — no matter how big you want it to be or what you plan to sell. The only caveat is that, out of the box, the platform doesn't provide dedicated e-commerce features. However, that issue can be quickly resolved by installing the right WordPress plugin.
An Introduction to WooCommerce

There are multiple plugins that can add e-commerce capabilities to your WordPress site. None of them can truly compete with WooCommerce. This free WordPress plugin is the most popular solution for online stores within the platform — and for good reason. Like WordPress itself, WooCommerce is both easy to get started with and endlessly flexible.
Installing the WooCommerce plugin will immediately add all sorts of useful e-commerce functionality to your site, such as product pages, a checkout option, and a payment system. It offers a number of useful settings and options, so you can tweak your store to meet your exact needs.
WooCommerce works well for selling physical items, digital products, or both. Whether you're starting up a small store to sell a few downloads or hoping to move hundreds of products a day, WooCommerce has you covered.
Key Features
Enables you to create dedicated, customizable pages for each product or service.

Adds a checkout feature to your site so visitors can make purchases directly.

Includes various options for payment methods and shipping.
Pricing
WooCommerce is a free plugin and is, in many cases, suitable on its own. If you want to expand its capabilities, however, there's an extension store offering all kinds of additional features.
What to Do Before Building Your Online Store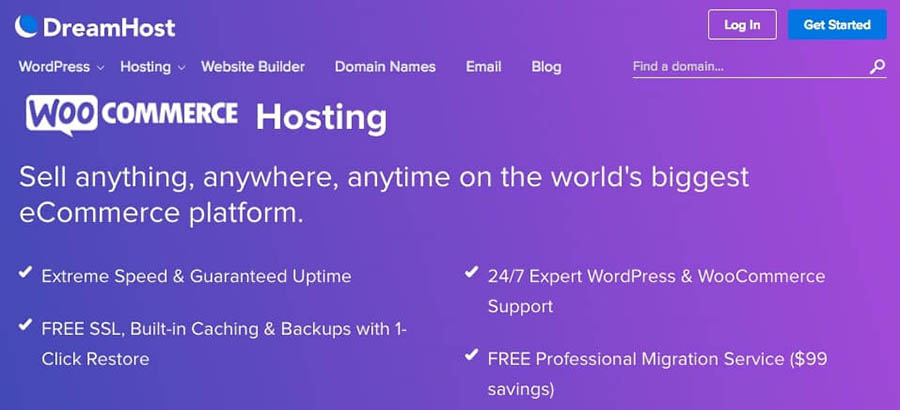 In a moment, we'll walk you through how to set up an online store using WordPress and WooCommerce. However, there are two things you'll want to do first. In order for your store to be available online, you'll need both a domain name and a WordPress hosting plan.
Your domain name is the part of your site's URL that comes after the www — for example, dreamhost.com. Purchasing a domain is simple. You'll have to pay an upfront cost, then a renewal fee each year, but these are usually quite affordable.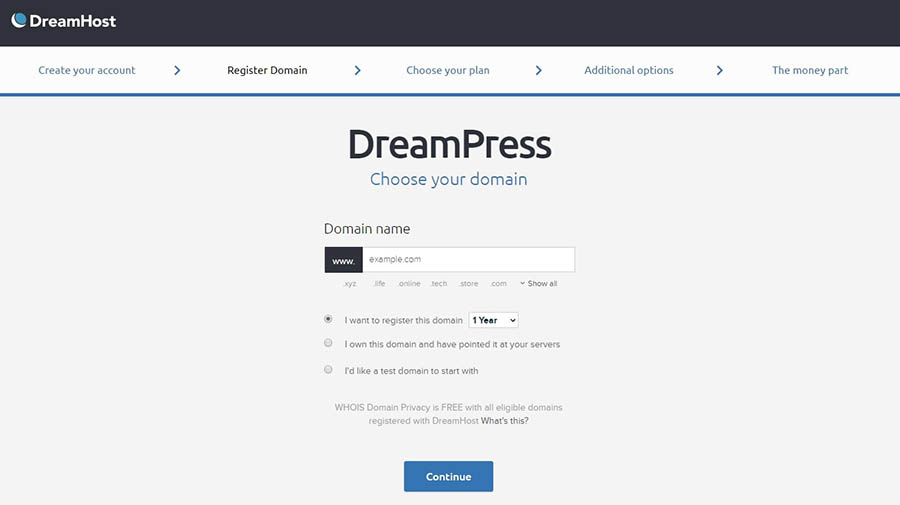 You can think of your domain like an address. It's one of the key ways people will find you, so it's important to make your choice carefully. Try to pick something simple and clear but also memorable enough to stand out. Take the time now to find something you're happy with, so you don't have to go through the hassle of changing your domain later.
If your domain is your site's address, your hosting is where it 'lives.' Your web host provider will store your site's files on its servers, so anyone with an internet connection can access it. There are many web host options, a lot of which are quite cheap. However, it's best not to rush this decision either. After all, your web host will affect your site's performance, security, optimization, and much more.
If you want to run a successful store, these elements are crucial. In addition, you'll want to look for a host with a solid reputation, excellent support options, and — ideally — WordPress-specific features. It's also best to select one with solid domain services since it's easier to manage your hosting and domain in one place.
Related: Why You Should Consider Keeping Domain Registration and Web Hosting Under One Roof
Since you'll be setting up a WooCommerce store, you should definitely check out our WooCommerce hosting. This plan is optimized for WordPress and comes with WooCommerce pre-installed (along with some other helpful tools). You'll get lots of storage and resource scaling options so you can grow your store, and plenty of support for those times when you need help. Plus, it's very affordable.
read more