Beginner's Guide for 2020: An Easy Free Step-By-Step Beginner's Guide To Create A Blog
Are you looking for a free, easy, step-by-step guide on
how to start a blog
? My free guide on this page will show you how to create a blog that is beautiful and functional, all in an easy step-by-step tutorial
I know that starting a blog can seem overwhelming and intimidating.
This free guide is all about blogging for beginners
, and will teach you how to be a blogger with just the most basic computer skills. So whether you're 8 or 88, you can create your own blog in less than 20 minutes.
I am not ashamed to admit that when I was first learning how to build a blog I made a ton of mistakes. You can benefit from more than a decade of my experience so that you don't repeat these same mistakes when you make your own blog. I created this free guide so that anyone can learn how to blog quickly and easily. And
if you get stuck at any point, please send me a message
and I will do my best to help you!
Skip the rest of this introduction and start building your blog!
What is a blog anyway?
In short,
a blog is a type of website that focuses mainly on written content
, also known as blog posts. In popular culture we most often hear about news blogs or celebrity blog sites, but as you'll see in this guide, you can start a successful blog on just about any topic imaginable.
Bloggers often write from a personal perspective that allows them to connect directly with their readers. In addition, most blogs also have a "comments" section where readers can correspond with the blogger. Interacting with your readers in the comments section helps to further the connection between the blogger and the reader.
This direct connection to the reader is one of the main benefits of starting a blog. This connection allows you to interact and share ideas with other like-minded people. It also allows you to build trust with your readers. Having the trust and loyalty of your readers also opens up the door to making money from your blog, which is something I discuss later in this guide.
Should you start a blog?
One of the misconceptions about starting a blog is that you need to be a great writer to be successful. Nothing could be further from the truth. People read blog sites to get a personal perspective on things, so most bloggers write in a very informal and conversational style.
In addition, you don't need to be an expert on your topic in order to have a successful blog. For example, readers of a cooking blog don't want to read a textbook from a food scientist, they want to hear the experiences of someone who has actually cooked some real meals, mistakes and all.
To be successful as a blogger there is really just one requirement: a passion for your topic.
At its heart, blogging is about sharing your knowledge with the world. Choosing a topic that you are passionate about makes the process of starting a successful blog so much easier. Writing about more than one topic is totally fine too. As long as you are writing about things that you are genuinely interested in, your passion will shine through and keep your readers interested.
So why would you go to the trouble of blogging? There are a few reasons:
Make money from home.

Blogging can be quite lucrative if done correctly. The top bloggers in the world obviously earn quite a bit, but even a part-time blogger can expect to make a nice profit if things are done correctly. The best part about it is that blogging is a form of passive income, since you can spend just a few hours a week writing a blog post and then continue to make money from it long after the blog post is written. I go into much more detail on how to blog for money later in this guide.

Share your story.

A blog allows you to have a voice and be heard. You can share your story with the entire world if you so choose. One of the most common ways blogs are used are as a diary where the blogger writes about their daily experiences so that friends, family, and others can all be a part of their lives.

Recognition for yourself or your business.

No, you probably won't have paparazzi following you around because of your latest blog post. But a successful blog makes your idea into a reality, and can gain you a ton of recognition in your respective field. Many bloggers are known as experts just because of their blogs, and some have even gotten book and movie deals based on their blogs.

Find a community.

Blogging at its heart is interactive. You write a blog post and people comment on it. This is a great way to connect with people who are interested in the same things as you are. Blogging allows you to teach these people based on your experience, and it gives you the opportunity to learn from your readers as well.
The good news is that the internet is exploding with growth right now. More people than ever are online. This explosion in growth means more potential readers for your blog. In short, if you are thinking about starting a blog then there is no better time than right now.
So, just how do you start a blog?
How to Start a Blog in 6 Steps
Learn how to create a blog in about 20 minutes following these steps:
Pick a blog name.

Choose something descriptive.

Get your blog online.

Register your blog and get hosting.

Customize your blog.

Choose a free template and tweak it.

Write & publish your first post.

The fun part!

Promote your blog.

Get more people to read your blog.

Make money blogging.

Choose from several options to monetize your blog.
Step 1: Pick a blog name
The first step to finding a good blog name is choosing your topic.
If you're not sure what to blog about, there are a few ways to find a good blog topic:
Hobbies & passions.

Hobbies or other interests you are passionate about are a great place to start. Cooking, travel, fashion, sports, and cars are all classic examples. But even blogs about more obscure hobbies can be successful, since the your audience is literally anyone in the world with the internet.

Life experiences.

Everyone has lessons they have learned through life experience. Sharing this knowledge can be incredibly helpful to others in similar situations. For example, I recently helped a woman start her blog about being a fireman's wife. She has a lot of experience and knowledge to share with others about this topic, and it has helped her connect with others in similar situations.Think about the things you have experienced in life. This could be related to your family (example: a blog about being a stay at home mom), work (a blog about experiences dealing with clients), or other life experiences (a blog about dealing with a troubling time such as a disease or divorce, or about a happy time such as preparing for a wedding or a birth of a child).

A personal blog.

A personal blog is a blog all about you. This will include a variety of topics, from things you do on a daily basis, to random thoughts and musings. This is a great way to share you thoughts with the world without having to stick to just one topic.
Once you have a topic it's time to choose your blog name.
A good blog name should be descriptive
so that potential readers can instantly tell what your blog is about just from the name.
If you are blogging about one specific topic then you will definitely want to include that in some way in your blog name. Try not to get hung-up on just one word though. For example, a cooking blog doesn't necessarily have to have the word "cooking" in it. The words "food", "recipes", and "meals" would also let people know that your blog is about cooking.
If you are planning to create a personal blog where you discuss a variety of topics then I recommend using your name, or some variation of it, since your blog is all about you. For example, I own the blog scottchow.com. You can also add your middle name or middle initial if you find your name is already taken. Or you could use a variation like "Scott Chow Blog" or "Blogging with Scott".
Can't decide on a good name for your blog? Contact me and I will help you personally (for free)!
Once you have some blog name ideas you will need to
choose a domain extension
.
A .com domain extension is the most preferred, but .net or .org work as well. It is also important to note that for the purposes of a blog domain you cannot have any spaces between words. So "Blogging with Scott" becomes bloggingwithscott.com
Now that you've got your name and have picked an extension it's time to make sure that no one else has already registered the same name:
Note: You cannot use any spaces or punctuation other than dashes in a domain name.
If you find that the name you wanted is already taken there are a few things you can do:
Try a different domain extension.

If the .com version is already registered you may still be able to get the .net or .org version of your blog name.

Add small words.

Words like "a", "my", or "the". For example, this site is called TheBlogStarter.com instead of BlogStarter.com.

Add dashes between words.

For example, scott-chow.com
Step 2: Get your blog online
Now that you've got a name picked out it's time to get your blog online. This might sound hard or technical, but the steps below will walk you right through and make the process easy.
To get your blog up and running you need two things: blog hosting and blogging software. The good news is that these typically come packaged together.
A blog host is a company that stores all of the files for your blog and delivers them to the user when they type in your blog name.
You must have a blog host in order to have a blog
.
You also need to have the software to build your blog. In this guide I will be showing you how to build a blog using the WordPress blogging software, because it is the most popular, customizable, and easiest to use.
How to Start a Blog in 5 Steps:
There are five main steps you need to do in order to start a blog. If you follow this guide exactly, you'll have your own blog set up in 30 minutes or less.
Choose a great blog platform
Choose a web host for your blog
How to Set up a blog on your own domain
Design your new blog
Useful resources for blogging
So, we made it. Phew. Better late than never! So, without further ado, let's jump into step 1.
Step 1 – Choose your preferred blogging platform
Choosing where you want to build blog is pretty much the first thing you have to do. I'm going to take a leap and assume you've heard of WordPress, and this is the platform I advocate. It's massive.
It's by far one of the biggest blogging platforms in the world, with countless plugins and add-ons and almost infinite ways to design and layout your blog.
There are more than 82 million active users of WordPress = a lot, basically.
There are other alternatives, however, and they are listed below:
Blogger – Definitely the next best thing to WordPress.
Tumblr – Half social network, half blog. Interesting, and very simple to use.
Even though WordPress is bigger (and probably better) than those two, here are my reasons why you should still go with WordPress:
Super easy set-up and is free to use
Tons of free themes and layouts (I'm not kidding, there are gazillions).
There's a massive support forum in case you get stuck (you won't, but it's nice to have it there if you need it).
Your blog will be insanely fast and it'll also look Functionality and form – perfect!
People can interact with you easily. Your content can be shared, commented on, and so on.
Here's an article about different blogging platforms (including WordPress), give it a read:
Now, Step 2 (see, we're moving fast now!)
Step 2 – Self-hosting or a free alternative?
Whoa, slow down there! This is the biggest decision you'll have to make before we go any further. You need to decide whether to pay for your blog or grab a free one.
WordPress, Tumblr, and Blogger all offer free blogs for anyone. Awesome, right? It's perfect for those of us who aren't super serious about blogging. But it does have downsides:
1) You won't be able to get your OWN domain name
On a free blog, your blog's web address (your URL) will be butt-ugly. Like, really ugly. In short, create a free blog with any other the above free blog services and it'll look like this:
yourblog.wordpress.com
yourblog.blogspot.com
yourblog.tumblr.com
I know, ugly right?
2) Limits and more limits
There are some limits to free blogs. You can't fully monetize it, and you don't have the possibility to upload all those videos and images you want to show everyone – it's all limited. Worse still, you won't even have access to the free themes offered by WordPress.
3) You DON'T OWN your blog
It might sound silly at first, but you don't actually own your blog. It's hosted on someone else's web property and they can delete it if they want to. They have done so in the past, and keep doing it in the future. Which means all your hard work on your blog, all those countless hours of writing blog posts might have vanished within seconds. Sad…
On the other hand, with a self-hosted blog on your own domain name – you are the REAL owner of your blog. You'll be able to name your blog whatever you want, for example, "YourName.com" or "YourAwesomeBlog.com. You can end it with .com, .co.uk, .net, .org, or virtually any other web suffix. Add to that unlimited bandwidth for videos, images, and content plus the free themes and you have a winning combo.
So how much is hosting and a domain name? Not as much as you're thinking, fortunately. It usually works out to about $5 to $10 per month, depending on your hosting provider which is less than a couple of coffees.
If you still have questions, here's some further information for you to look at:
Should I Choose a Hosted or Non-hosted Blogging Platform?
Step 3 – Start a blog on your own domain (if you chose self-hosting and a custom domain)
I'm going to push ahead based on the premise you've chosen WordPress, and if you haven't, you should. Seriously, it's the best.
If you're still a little confused by what a self-hosted blog is, allow me to explain and how you can go about setting one up for yourself.
You'll need to come up with a domain name you like and also choose a hosting company that can host your blog.
Domain: The domain is basically the URL of your website. Examples: google.com (Google.com is the domain), Facebook.com (Facebook.com is the domain). See? Simple!
Hosting: Hosting is basically the company that puts your website up on the internet so everyone else can see it. Everything will be saved on there. Think of it as a computer hard-drive on the internet where your blog will be saved.
Disclosure: I recommend using Hostgator for web hosting. If you click through one of my links and make a purchase, I will receive a commission, which helps me keep bloggingbasics101.com up and running.
It's probably one of the cheapest (less than $3 per month) hosting providers out there. A domain name will cost around $10-15 a year, but with Hostgator, you can get that for FREE first year.
If you do sign up with Hostgator be sure to use the coupon code BB101 as this will unlock the maximum discount they offer on all their hosting packages.
:). Big smiles for that!
They're the providers I use for all of my blogs, including the one you're reading right now.
If for any reason you don't want to go with Hostgator, feel free to choose your own hosting company. Most, if not all of them, should have a "one-click" WordPress install solution on their admin panel.
That button will automatically install WordPress on your blog. Did I say it was simple or what?
All you need to do is sign up with Hostgator (or your chosen provider), choose your hosting plan and a domain name and look for the one-click WordPress install button on the admin panel.
If you are getting stuck at any point this guide may help as it has screenshots.
WordPress essentials aren't often needed, but I'd recommend whois privacy (that will keep all your personal details private) and definitely automated backups (that'll save your website just in case anything fails or disappears so you won't lose any or very little of your blog).
Once WordPress is installed on your website, all you have to do to start blogging is go to your WP-Admin page usually www.yourblognamehere.com/wp-admin and start writing by adding a new post.
At the start, the layout looks confusing, but it gets very understandable quickly. Don't worry!
Step 4 – Designing your WordPress blog
Now, the fun bit.
Let's make your blog look exactly how you want it to. To choose a new theme, you can either head to Appearance > Themes and install a free WordPress theme or you can head to a premium theme website like ThemeForest.net and buy a theme for around $40.
I usually choose something that looks professional and pretty easy to customize. WordPress also has this awesome feature that allows you to change themes with just a few clicks. So if you start getting tired of your current blog template, you can just switch to another one without losing any precious content or images.
Remember, your blog's design should reflect both you and your personality, but also what the blog is about. There's no point having a football-orientated theme if your blog is about tennis, understand?
On top of that, it should be easy to navigate if you want people to stick around. If it's tricky and difficult to move around it, people won't stay. After all design is a subjective art; meaning everyone likes different things.
But no one likes ugly websites, and they especially hate websites that need a university degree to navigate. Make it easy for them.
For more reading, I've put together 3 blog posts about designing your blog. Feel free to check them through.
Last step! Woo!
Step 5 – Useful Resources For Beginner Bloggers
Bloggers come to blogging arena with varying degrees of online and social media experience, but we've all made more than a few newbie mistakes – there's always room for more learning and improvement, whether you're a beginner or you've been blogging for years.
Changing your blog design
Once you login you will be in the WordPress administrator area. This is where you can make any changes you want to your blog.
Everyone has a different idea of how they want their blog to look. One of the great things about a WordPress blog is that you can change your entire layout and design with just a few clicks.
In WordPress, blog layouts are known as "Themes". What is a blog theme? Themes control the entire design of your blog. To change your theme you are going to click on the "Appearance" tab on the left menu.
You will see several themes are already installed on your blog: Twenty Seventeen, Twenty Sixteen, etc. These are well-designed, clean-looking themes that can work for just about any type of blog. In fact, many of the world's top bloggers use one of these themes.
Unless you have a very specific design in mind for your blog,
I suggest you use one of these themes to start with
. For our example, let's use the "Twenty Sixteen" theme. In order to activate the theme on your blog, hover over the theme and click the "Activate" button. That's it! You have changed the entire design of your blog with just one click!
If you don't like any of the themes that are already installed you can easily choose from thousands of other free themes. To install a new theme, click on the "Appearance" tab on the left menu and then click "Add New Theme".
This is the theme search screen. There are thousands of themes to choose from. You can change your entire design at anytime simply by activating a new theme. To find a theme you like, I suggest you click on the "Popular" tab and start browsing. When you find one that you like click the blue "Install" button.
Once the theme is installed click "Activate" to activate the theme on your blog. To see your new theme in action, go to your blog and take a look!
Changing your theme is the simplest way to customize your blog, but there are lots of other customizations you can do. Check out my full post on customizing your blog for an in-depth step-by-step guide. You can also watch the video at the end of this guide to see me completely customize a blog from scratch.
Step 4: How to write a blog post & publish it
Now that your blog is up and running it's time to actually do some blogging!
Go to the left menu and click on "Posts".
You will see there is already a post there. This is a default post on every new WordPress blog, and we don't need it. To delete it click "Trash" just under the post.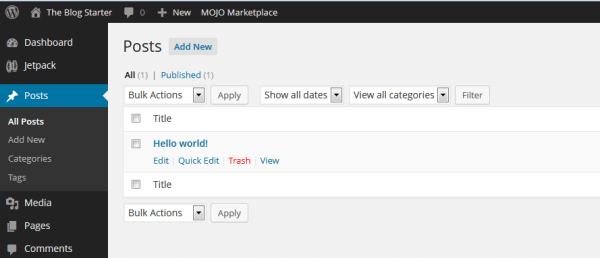 To begin writing a new post, click the "Add New" link.
You are now on the post editor screen. Enter the title of your post in the top box and then begin writing your post in the lower box.
If you would like to add a picture to your post, click on the "Add Image" icon and click "Upload" to upload a picture from your computer. You can make adjustments to the picture size on the next screen. When you are ready click "Insert into post" to add the picture.
Once you have finished your post just click the "Publish" button on the top right side of the screen to publish it.
Publishing Your Blog
Even after you have written a post your blog may still be showing a "Coming Soon" page.
When you are ready to make your blog public just click the "BlueHost" menu at the top left of the menu in your administrator area then click the blue "Launch" button to remove the "Coming Soon" page.
Congratulations! You now know how to start your own blog and publish content!
Promote your blog
Creating a well-designed blog and writing great content is just the start. In order to get readers for your blog you will need spend some time promoting it, especially when you first start. Click on the strategies below for more info.
These articles may help you avoid some of the growing pains when it comes to your first blog – enjoy!: